Inspired by the timeless elegance of the classic knife-edge solitaire ring, this brightly polished engagement ring showcases a 1 carat round brilliant cut moissanite center stone secured in a 6-prong crown Cathedral setting. This solitaire stone sits high above a flat-edged band with tapered knife-shaped sides, in a dramatic display of fire and sparkle. Solitaire engagement rings are effortless to mix and match with the wedding band of your selection with their slim lines and graceful design.

Carat: 1 carat (approx 6.5mm)
Colour D - F
Cut: Excellent Cut
Clarity: VVS (No imperfections can be identified by the naked eye.)
Quality Assurance
We only use excellent cut premium moissanite with the best clarity and colourless stone grades D-F. 
Every moissanite from Princess Gem is guaranteed with a lab report and shows positive on the diamond tester.

Our gold and silver rings have been tested by Singapore Assay Office (SAO) and certified to be genuine pieces.
For more information on our gold quality, please click here. 

Worried about purchasing the wrong ring size? We are delighted to offer you a complimentary one time ring resizing.

Shipping
Kindly note that production generally takes around 4-8 weeks as each ring is made upon order and we pride ourselves on ensuring it passes stringent quality check before handing it over to you. For more information, please check out our shipping details on our FAQ.
MAKE THE SMART CHOICE TODAY.
Princess Gem offers only the best quality moissanites which are colourless grade D - F, flawless to VVS1 clarity and excellent cut. All Princess Gem moissanites passes the diamond test. Moissanites resemble diamonds so closely that the average person would not be able to distinguish one from a diamond. Unlike cubic zirconia, a moissanite will not turn cloudy or lose its shine/sparkle as time passes. Moissanite is the closest diamond alternative and they look identical to a diamond as far as sparkle, hardness, and brilliance is concerned.
WHY 3 MONTHS' SALARY IS OUTDATED
An engagement ring is a token of love, but it should not mean that love equates to spending 3 months' salary on a ring.
Truth is, a diamond is not an investment & the last thing your marriage needs is financial worry before you've even thought about saying I do. Diamonds are heavily inflated for the jewellery retailer to profit off 300% - 1000%. So why allow the diamond industry tell you how much to spend?
OPTICALLY SIMILAR TO A DIAMOND
Every gem is hand crafted, precision cut and meticulously polished by our master craftsmen with decades of experience in the diamond industry. Every care is taken to ensure that our gems resemble the brilliance of a real diamond, graded by the 4 C's and passes the diamond test.
GENUINE GEMSTONES
All Princess Gem moissanite comes with a certified lab grading report and serial numbers are inscribed directly into the gemstone itself. Princess Gem focuses only on premium grade lab-grown moissanite which follows the stringent benchmark of the 4C's. As a result, each of our gemstones has a near flawless cut, few inclusions and almost colourless.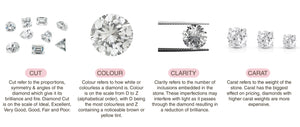 SUBSTANTIAL COST SAVING
The cost savings is the biggest benefit of choosing moissanite over a diamond. You get to save a huge portion which could be better allocated towards housing renovation or your wedding's budget. Over the past few years, many savvy couples have chosen moissanite for their engagement ring. In fact, you can also go for a bigger gemstone, and spend less by doing so.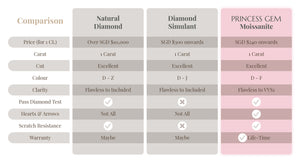 WHY SPEND $10,000 ON A PROPOSAL RING WHEN YOU CAN
SPEND LESS THAN $500?
QUALITY ASSURANCE - SAO CERTIFIED
Singapore Assay Office (SAO) is an independent test laboratory that test precious metals such as gold, silver, platinum and palladium purity since 1975. It is Singapore's only recognised and independent body that tests and certifies precious metal articles.
When you buy from Princess Gem, you are buying authentic gold and silver jewellery. All Princess Gem products are made out of sterling silver, gold or gold alloy and our products have been tested by the Singapore Assay Office (SAO) to ensure that the gold fineness meets Singapore's strict standards.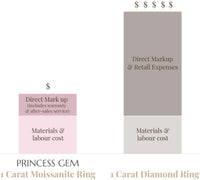 TRANSPARENT PRICING
Our production process is tried, tested, and streamlined to keep costs low.
Our direct business model ensures all products come straight from the lab to you while eliminating middlemen and any artificial markups or distribution costs. 
No hidden costs as all value-added services such as lifetime warranty, cleaning & polishing services and resizing services are inclusive in the pricing.
ETHICAL & ENVIRONMENTALLY FRIENDLY
In the diamond mining industry, conflict diamonds (blood diamonds) are unsustainable and harms both environment and society which has also resulted in forced child labour, unsafe labour practices and environmental disruption around the world.
 Princess Gem advocates sustainable gemstones only - the gemstones that we offer are 100% conflict-free.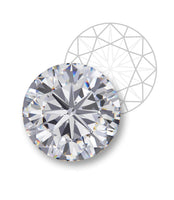 LIMITED LIFETIME WARRANTY
Princess Gem prides itself on our high quality products and services, with the promise of a lifetime of durability. Our stones are crafted with the highest grade quality and every stone is crafted, cut and polished to resemble the brilliance of a natural mined diamond. 
We are confident in our products and by offering a lifetime limited warranty on our products, we want you to feel assured and put your trust in us.